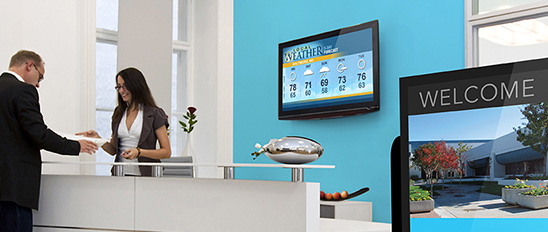 Installation
inLighten's Installation Division specializes in audiovisual equipment, planning, installation and service. inLighten maintains a network of thousands of Field Service Representatives (FSRs) who are available throughout the U.S. and Canada to perform installation and field support services.
Digital Signage Specialists
We're experts in efficient, cost-effective, well-designed digital signage installation and support. Whether your project entails a single screen in a single location or a geographically dispersed grid of multi-screen locations with a time-critical completion schedule, our network of audiovisual installation professionals enables us to execute any assignment regardless of scope, complexity or deadline. With access to the full spectrum of equipment and materials, we're able to deliver the right solution at the right price on time and to the highest standards of quality and performance.

Complete Audiovisual Services
inLighten also offers much more than quality digital signage installation services. We provide expertise across the full spectrum of audiovisual installations, from environmental music systems, music-with-message for on-hold, speech privacy, queuing solutions, desktop messaging options and POS self-service kiosks. Whether you require an installed solution for the boardroom, the classroom, the store or any other environment, inLighten can plan, install and service your project from inception to operation.

Nationwide Installation Service
We have well-established relationships with local audiovisual professionals in all 50 states and throughout Canada. We carefully select partners to meet exacting standards of industry knowledge, technical skill, quality workmanship and customer service. We use only insured and bonded professionals, and carefully plan, project manage and quality assure each job to ensure the complete satisfaction of our clients.
Consultation and Implementation
Project Planning and Consulting
Full Project Management
No Divided Responsibility
Turnkey Installation, Labor, Technicians, Cabling,
System Activation, Testing, Training, etc.
Delivery Coordination
Standards Compliant
Nationwide Field Support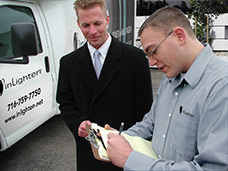 inLighten offers care and maintenance of the audiovisual solutions that we install during the course of their operational lives through our help desk and network of local installation professionals. We warrant the quality of our installation work and manage manufacturers' warranty fulfillment , as needed, for the equipment we install. Our commitment is to ensure that your audiovisual solution performs to specifications and delivers an exceptional return on your investment.
Audiovisual Equipment
We provide a wide selection of equipment to meet the needs of any project, with access to the products of all leading manufacturers. We're continually alert to innovation and rigorously evaluate new options to ensure that they deliver the performance, value and quality that meet the most demanding operation conditions. For traditional and interactive displays, projectors, audio systems, distribution components and much more, inLighten is your single reliable source for products and technologies of superior quality.