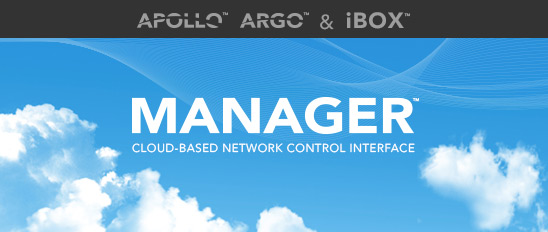 Network Management
So Much Power – So Easy to Control
inLighten's cloud-based Manager™ interface is the most versatile, feature-rich and user-friendly control system available for networked digital media solutions – including traditional and interactive digital signage, video walls, self-service kiosks, on-hold audio systems, tablets, digital print and more. Wherever you have access to the web, you can securely log-in to Manager using your favorite browser – Edge™, Chrome™, or Safari™ – and control the full range of inLighten's Windows and Android based solutions. You'll have all the capabilities you want and more for managing content presentation and network behavior – without the complexity that diminishes productivity.

How It Works
Users log-in to their secure Manager web account to monitor network status, interact with their remote systems and upload, create, schedule and distribute content. inLighten digital media systems, connected to inLighten's hosted network servers through the cloud, retrieve this information and automatically display content according to user presentation and scheduling instructions.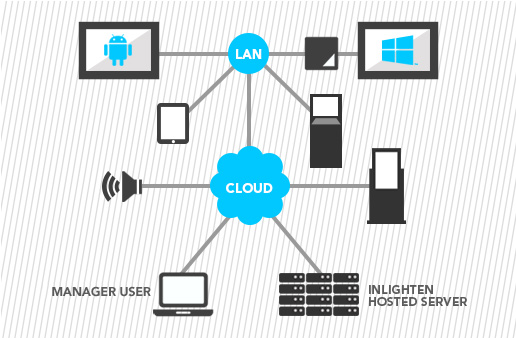 Content Resources: Use Your Favorite Software
Manager accepts content created with leading design software like, Adobe AfterEffects™, CorelDRAW™, and even PowerPoint. It doesn't matter whether your preferred software resides on a Windows™ or Mac™ system, Manager accepts content files output from either flavor. Just create, save and upload content to Manager for immediate scheduling and playback.
Content Resources: Manager's Online Editor
Manager also incorporates a streamlined online web editor that can be accessed from anywhere, anytime without the need to have design software with you. Assemble completely customized content, on the fly, using this suite of user-friendly design tools. Easily combine text, videos, photos, clip art, audio and other content that you have uploaded to your account with content from inLighten's online graphics Gallery™ to create exciting presentations at a moment's notice.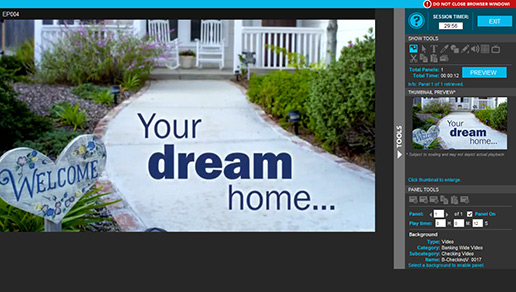 Content Resources: Studio™ Professional Creation Software
Expand your creative capabilities with inLighten's revolutionary, cloud-based comprehensive suite of professional design software that works in concert with Manager. Studio offers the design power to produce state-of-the-art, broadcast-quality content – but with an intuitive interface that doesn't require years of experience to be proficient. Studio's robust suite of tools enables you to import videos, graphics, audio and much more, work with advanced text and drawing tools, utilize a host of design and animation features, incorporate over 1,000 transitions and effects, and provide editing with micro-second precision. And, because Studio is cloud-based software, you're no longer forced to have a copy of the software on every computer you work at. Simply log-in to your Manager account and instantly download Studio onto the system you're currently using, anytime, day or night.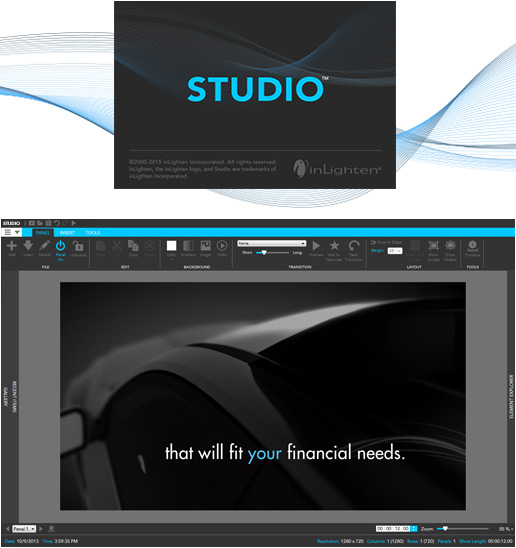 Content Resources: Incorporate Social Media and Live Content
Unique to inLighten's creation software is the power to include live links to your favorite social media sources like Twitter™ and YouTube™ in your custom presentations as well as RSS, XML and a variety of other external data feeds.

Content Resources: Incorporate Live Video
Manager allows you to insert live video delivered by cable, satellite or other live sources into any schedule. Feature regularly scheduled local broadcasts, present favorite sporting events and provide access to internal communications as desired.

Content Resources: The Gallery™
inLighten's Gallery is the most expansive collection of professional, broadcast quality, ready-to-use, ready-to-edit ad templates, video backgrounds, and graphics available. Selections can be edited using inLighten's Manager online editor and Studio professional suite of software. And, with inLighten's supplement program, new content is regularly added to the Gallery ensuring its vitality and expanding your creative possibilities. Even with thousands of content choices, the Gallery's advanced content profiling and coding system makes it remarkably easy to find exactly what you need. Content has been profiled by industry, copy, language and a variety of attributes such as activity, age, urbanicity, ethnicity and seasonality. Attributes can be combined using the Gallery's powerful search engine for pinpoint accuracy. You can even apply your own content codes for fast access to your favorites.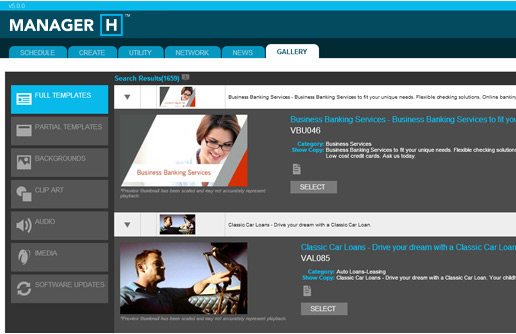 Content Resources: English, Spanish and French Content Choices
Recognized for the most extensive collection of customizable English language content and the most widely-viewed English language news program for digital signage applications, inLighten has expanded the breadth of its content offerings to help clients communicate with their increasingly diverse audiences. Today, inLighten's graphics Gallery includes a growing subset of Spanish and French content, and its specialized iTV™ News programming features a variety of segments in Spanish. inLighten's growing language inclusion program regularly develops content in a variety of languages for addition to the Gallery and the iTV News Bureau.

Content Resources: Nielsen Segmentation Coding
The science of geodemographic household analysis enables marketers to better identify and understand their customers by organizing those with similar characteristics into profile clusters. inLighten has applied this intelligence to content within its graphics Gallery, enabling you to strategically analyze and identify content that matches your audience's social group, lifestage and financial behavior. The codes of Nielsen's widely-used Prizm™ and P$ycle™ householding systems have been thoughtfully assigned to Gallery selections so that they can be aligned with your segmentation strategies and used in conjunction with Nielsen-coded customer files and other utilities.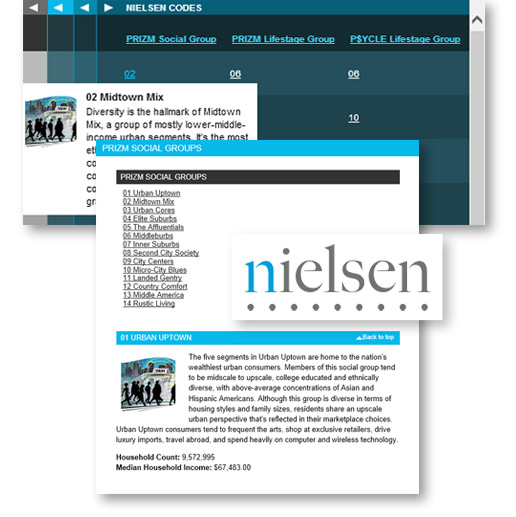 Content Resources: inLighten Specialized Segmentation Coding
During the past 25 years, inLighten has systematically monitored and carefully analyzed the behavior of millions of viewers that participate with its news and content programming. These measurements have been synthesized to create a proprietary householding solution based upon viewer habits, attitudes and response patterns. The result is the most powerful and streamlined coding system specifically applicable to digital signage and media communications. inLighten segmentation coding is available as part of the graphics Gallery and iTV News Bureau module.

Content Management: iTV™ News Programming
inLighten's iTV News programming brings clients the top stories from the top news sources continually updated throughout the day. An ever-growing selection of program segments is available, ensuring that iTV delivers the broadest reach across audiences of all kinds. iTV News is filtered for the sensitivities of the numerous industries and audiences that inLighten serves and undergoes rigorous editorial review, guaranteeing that news content is appropriate for public and corporate environments and supports recall of client promotions and messages. Using its proprietary householding solution as well as Nielsen's segmentation coding and a variety of other demographic and viewer statistical data, inLighten has developed individual program segments that appeal to a wide array of audiences. Specialized Canadian programming is available as well as selected Spanish-language program segments. Within Manager's News Bureau Module clients have access to all of these resources as well as a variety of analytic data for each content segment. Clients can select one of inLighten's pre-developed news schedules for assignment to their locations or can select individual iTV program segments to create their own custom news schedule.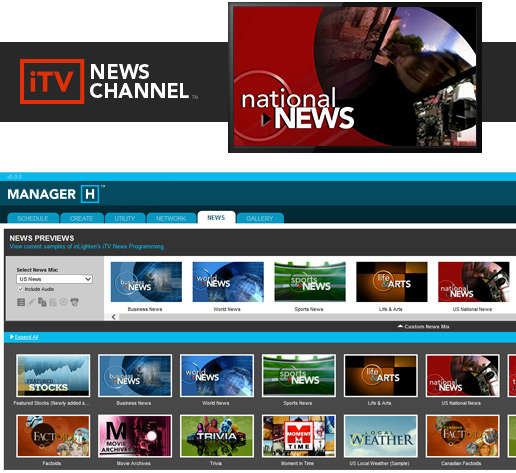 Content Management: Custom Branded iTV News Programming
For complete control of the look and feel of iTV news programming, inLighten's Studio offers the unique ability for users to design the graphics for their own custom news shows and insert links to a variety of iTV news stories that are displayed live as part of a client's branded news presentation.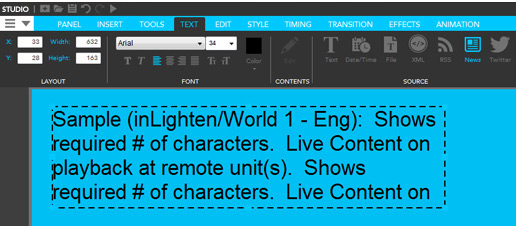 Content Management: Scheduling Utilities
Manager gives clients ultimate flexibility in managing and scheduling content playback. Scheduling utilities include, in part, show scheduling by targeted start and end dates, defined days of the week and specific times of the day. Entire show sequences can be scheduled with the same granularity. Within schedules, clients determine the sequence in which shows are presented as well as the frequency with which selected shows appear versus other shows in the schedule, allowing mission-critical content to be presented with greater frequency. Schedules can be edited incrementally at any time to add/delete shows, revise sequencing and frequency or revise playback commands. Among the most powerful and valuable features within the Manager scheduling module is the ability to assign multiple schedule types to one or multiple locations with completely coordinated content playback according to criteria established by the client. A primary Global schedule may contain content to be presented at all network locations, while a secondary Local schedule contains content relevant to one or a selected cluster of locations. Each location on the client's network will then present both the Global and Local content that has been assigned to it. In addition, an Interrupt Schedule option enables clients to assemble alternate schedules that can be programmed to override primary Global and secondary Local schedules during specified dayparts for presentation of special events, training or targeted marketing initiatives.

Network Management: Resource Control
Manager has been created to provide the most powerful digital media capabilities with the greatest operational efficiency. Built into the Manager interface are controls that help clients manage the resources they dedicate to access content from inLighten's hosted network as well as the display hardware used to present it to their audiences. For most organizations, bandwidth optimization is an ongoing focus, and inLighten supports this imperative by empowering clients to define the dayparts during which content retrieval is allowed and those when it is restricted, ensuring that content download doesn't impede other mission-critical activities. To extend the operating life of display hardware, Manager also enables clients to program blackout schedules for dayparts when intended audiences are not present to extend screen life, defer replacement costs and sustain presentation quality.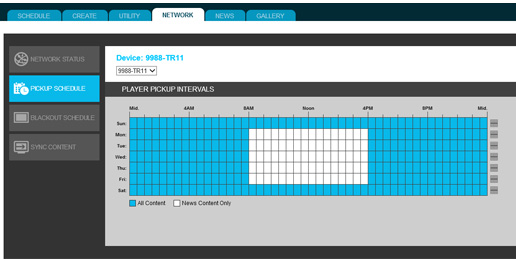 Network Management: Operation Monitoring
Clients can check the performance of each of their network locations with ease from the Manager interface. In addition to verifying normal system operation, Manager also alerts clients to locations at which inLighten has identified operational conditions requiring attention. Clients are notified of pro-active inLighten help-desk intervention as well as the assignment of technical support personnel to perform diagnostics and assist in returning systems to normal operating status. For additional assistance, inLighten clients can contact inLighten's Technical Support help desk on a 24/7/365 basis with a single phone call or email.