inLighten News Releases
'Hot Product 2020' Recognition Awarded to inLighten iVIEW Clean™ Hand Sanitizer + Digital Signage Station
December 2, 2020
iCLARENCE, New York – inLighten® (www.inlighten.net), for more than 30 years a leader in the field of digital signage, interactive, and audio solutions today announced that, Religious Product News, a publication that reaches 40,000 church leaders, has named inLighten's iVIEW Clean Hand Sanitizer + Digital Signage Stations one of its ' Hot Products' for 2020. Designed to display attention-getting video messaging and ensure compliance with best safety practices, wall-mounted and free-standing iVIEW Clean units can be located anywhere. Read more
inLighten Releases iVIEW Clean™ Digital Signage Stations with Integrated Hand Sanitizer Dispenser
July 28, 2020
inLighten® (www.inlighten.net), for more than 30 years a leader in the field of digital signage, interactive, and audio solutions today announced the release of iVIEW Clean Digital Signage Stations. Designed to make it easy to deploy essential visual messaging in virtually any location, when combined with a touchless hand sanitizer dispenser, iVIEW Clean generates greater awareness of essential information as well as increased compliance with health and safety measures. Read more
inLighten CEO Dan Snyder Donates $100,000 for Brothers of Mercy Campus Expansion
May. 13, 2019
Dan Snyder, President and CEO of inLighten, a Clarence-based media and digital signage company that services thousands of organizations worldwide, today announced through the company that he has personally donated $100,000 toward the construction of the Brothers of Mercy's expanded assisted living/enhanced assisted living and memory care community at Bergtold and Ransom Roads in Clarence. Read more
inLighten Introduces Comprehensive, Web-based, Customer Check-in Solution
January. 22, 2019
inLighten® , a recognized leader in the field of digital signage, interactive, and audio solutions today announced the release of here.™, a comprehensive system for customer check-in, visual notification, mobile alerts, service management and reporting. By adding here. to their facilities, clients can enhance the customer service experience, improve service efficiency, and capture data on customer needs and service interactions for analysis, action and modification. Read more
inLighten Introduces StudioPro™, Design Software For All Digital Signage Systems
May. 29, 2018
inLighten®, a recognized leader in the field of digital signage, interactive, self-service and audio solutions announced today the release of StudioPro™, the first design software with a specific focus on content creation for digital signage developed for universal compatibility with the digital signage systems of any manufacturer. Content creators simply download StudioPro onto any PC for access to a comprehensive suite of design tools and utilities for use with a variety of media assets and content resources. With an intuitive, easy-to-navigate and operate interface, StudioPro will streamline workflow, save time and enable users to get the most out of their current digital signage product. Read more
Pete® (Professional e-Tablet Environment) is the first handheld device created for corporate and institutional applications, and it's the newest addition to inLighten's family of digital communication solutions. Pete's combination of lightweight convenience, intuitive touchscreen controls and rich media playback make it an ideal resource for a variety of customer and employee communication options:
As a dynamic instructional tool, Pete fosters the kind of one-to-one interaction between customer and service rep that converts interest into action.
As an interactive library of stored content, Pete enables customers to select from menus of available videos, PowerPoint presentations, PDFs and similar content for in-depth investigation of information chosen just for them.
As a self-service system, Pete can be pointed to targeted URLs of your choice, providing full-functionality for online banking, product ordering, survey gathering or other applications.
As a personal digital display at point of sale, Pete presents targeted, dynamic content that attracts and engages customers.
And, by allowing access to content stored in restricted menus, Pete becomes a vehicle for employee training and corporate communications, making training materials available for self-directed learning or one-on-one tutorials.
Best of all, you're in complete control of designing the Pete experience your customers and employees will have. Whether you've deployed one or many Pete units, an easy-to-use, web-based management interface enables you to upload, create, schedule and distribute dynamic content targeted to a single unit, a cluster of units or to your entire Pete network.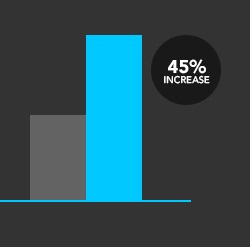 During 2016, the number of institutions switching to inLighten digital signage grew by 76%. Why did clients state they made the change?
Better Features
Better Web Interface
Better Software
Better Content
Better Help Desk
Better Reliability
Contact us today and discover for yourself why more institutions
are switching to inLighten. (716) 759-7750

inLighten has compiled client-based research collected during a series of bank branch intercept studies performed 4 months after installation to determine the effectiveness of inLighten's digital signage merchandising and communication solutions. The research measured Viewership Development success when utilizing inLighten iTV™ news programming integrated with client ads, Viewer Ad Recall, Service Quality Performance and Sales Activity.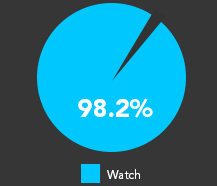 Viewership Development
The research showed that viewership penetration, when client messages were combined with inLighten's iTV news programming, grew to 98.2% after four months. Over 60% of viewers indicated that they spend nearly all their time watching the program – and 89% said they spend more than half their time in the office watching.
inLighten Methodology: inLighten delivers superior viewer participation by employing a propriety formula for news and information programming that includes demographic and behavioral modeling, world-class news sources, industry-sensitive filtering and rigorous editorial oversight.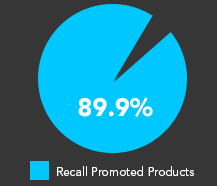 Ad Recall
The research showed that the high level of viewership occurred not only with news content but translated to a 89.9% Ad Recall rate among viewers. Over 50% said they recalled three or more unique products (announcements) and 80% indicated they recalled two or more.
inLighten Methodology: inLighten applies a proprietary blending algorithm to combine client content with inLighten's specialized iTV news programming in a way that maximizes viewer exposure on each visit and powerfully ingrains client messages across multiple visits.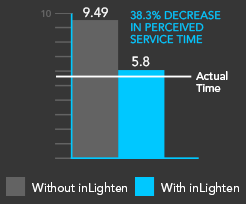 Service Quality
The research showed that viewers on average believed that service speed was 38.3% faster than before the inLighten digital signage solution was implemented.
inLighten Methodology: When high-value news and information is perfectly integrated with client messages in a seamless programming mix, it becomes an expected part of the viewer's experience on every visit – replacing judgments about service speed or efficiency and creating a perception of improved service quality.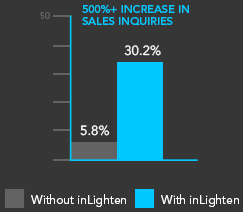 Sales Activity
The research showed that five times the number of branch customers made product and service inquiries (30.2% vs 5.8%) than before inLighten digital signage was installed.
inLighten Methodology: When a proven methodology for viewership development built around specialized, high-quality news and information programming is combined with a highly-effective model for maximizing message exposure, viewers become both better informed about current offers and more comfortable with their visit resulting in a dramatically increased willingness to extend their visit and ask about products and services that can help solve their problems, manage their lives and work toward achieving their dreams.
inLighten introduced its new Apollo™ Digital Signage product line in a contemporary presentation that encompassed many of its digital media solutions at the 2014 CUNA GAC conference. inLighten is proud to share the news that it was named "Best of Show" by the CUNA Technology Council.
"We have been an active CUNA member for 20 years and are honored to receive this award and to share it with our more than 2,000 client companies," said inLighten CEO Dan Snyder.