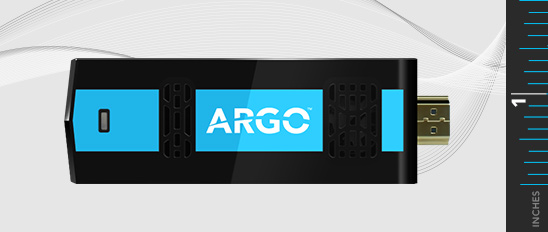 Digital Signage: Windows
A Windows-based digital signage player now fits in the palm of your hand. inLighten's 1.3 oz., solid state Argo™ receiver offers a Windows operating system on a full-featured inLighten enabled digital signage stick. With HDMI connectivity that's compatible with the full range of LED, LCD and other displays, Argo receivers output 16:9 HD video of exceptional quality and audio of superb clarity.
Manufactured by inLighten, Argo receivers are engineered to combine revolutionary inLighten software with hardware that's ultra-compact and includes a one year replacement warranty with inLighten's hosting service. Argo receivers seamlessly interface with inLighten's cloud-based network via wired or wireless Internet. With Argo at your screens, the expense of digital signage disappears and a portal opens to the most comprehensive suite of web-based network controls available.

Argo receivers present content created using standard graphic software or with inLighten's cloud-based Studio™ creation software. Argo receivers automatically combine your messages with other high-value content such as programmable news and information from inLighten's iTV™ News Bureau as well as a variety of live links to social media, RSS and other data sources that can be incorporated with ease.
Argo receivers are plug and play devices that do not require extensive technical skill to install or maintain. For retro-fit applications, Argo receivers can support HDMI, VGA or composite video.
Argo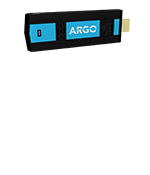 | | |
| --- | --- |
| Number Video Channels: | One |
| Number Audio Channels: | One |
| Video Display Ratio: | 16:9 |
| Video Orientation: | Horizontal & Vertical |
| Standard Video Output: | HDMI |
| Optional Video Output: | VGA (720p), Composite |
| Live Content Support: | Social Media Links, RSS, & more |
| Operating System: | Windows |
| Standard Connectivity: | HTTPS |
| LAN Connectivity: | Wired or Wireless |
| Lifetime Warranty: | With Hosting Agreement |
| Hosted Web Interface: | Argocast |